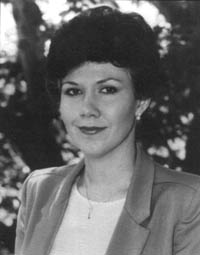 Immigration, Affirmative Action, and the American Dream
LINDA CHAVEZ
MONDAY, FEBRUARY 5, 1996
According to The New York Times, Linda Chavez is "an influential voice on civil rights policy." The Washington Post likewise considers her to be part of "a new generation of intellectuals [seeking] to question the orthodoxies of the civil rights establishment." Chavez is a conservative politician and writer who has earned the professional respect of both her supporters and critics.

With her 1991 book, Out of the Barrio: Toward a New Politics of Hispanic Assimilation, Chavez drew national attention for her controversial and conservative positions on public policy issues such as affirmative action, immigration, and bilingual education. The Denver Post wrote that her book "should explode the stereotypes about Hispanics that have clouded the minds of patronizing liberals and xenophobic conservatives alike." She is currently at work on her second book, which will focus on the impact of feminism on social policy.

The president of the Center for Equal Opportunity, Chavez writes a weekly column for USA Today and is featured in many other publications, including The Wall Street Journal, The New Republic, Commentary, and Forbes. She is also a frequent guest on The McLaughlin Group, CNN & Co., Equal Time, and The News Hour with Jim Lehrer.

Unlike many political experts and commentators, Chavez has held several government and activist positions. From 1992 to 1996, she acted as the U.S. expert on the United Nations subcommission on human rights. She also served in the Reagan Administration as the director of the U.S. Commission on Civil Rights from 1983 to 1985 and as White House director of public liaison in 1985. Chavez won the Republican nomination to run for United States Senator from Maryland, but she lost in the general election.

Chavez is a former president of U.S. English, a national organization that lobbies against bilingualism and for the sole use of English as this country's official language. Between 1977 and 1983, she was the editor of the award-winning journal American Educator.

Please join the Athenaeum in welcoming Chavez on her return visit to CMC. Her lecture, sponsored by the John Brown Cook Association for Freedom, is sure to provoke interesting questions and dialogue concerning today's public policy issues.