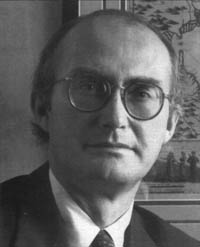 Back to Baku: Re-emergence of the Caspian as a Great Oil Province
STEPHEN REMP '69
TUESDAY, FEBRUARY 6, 1996
Steve Remp, CMC class of 1969, became a distinguished international businessman through very unconventional means. Although his family has long been involved in the oil industry, Remp charted an unusual path towards his career. An entrepreneur at heart, Remp discerned that the North Sea, an area full of "roughnecks" involved in oil, would appreciate the comforts of an international hotel franchise. Though his brief career in the hotel industry was extremely successful, Remp soon became dissatisfied and sold his interest in the hotel. In 1977, he started Ramco, a company contributing to the safety and operating efficiency of oil and gas installations through the cleaning and protection against corrosion of tubes and pipelines. The independent U.K. company quickly became the North Sea market leader in oil field tubular care, and when Ramco went public on the London Stock Exchange in 1984, Remp was awarded the Scottish Business Achievement Award.

Through his entrepreneurial spirit and solid background in international affairs, Remp sought to expand the already successful company. During the late 1980s, Remp made a pioneering trip to Siberia, where he provided maintenance for the country's huge but deteriorating oil infrastructure. Later, Remp became the first western oilman to visit Baku to invest in the Azerbaaijani oil industry in and around the Caspian Sea. Soon top Soviet officials asked Remp to represent Azeri oil interests to the West and to develop partners with resources to maintain their own oil fields in previously top-secret areas. As a result of his work, Ramco was announced as a member of a new consortium designed to develop major oil fields in the Caspian Sea. This $8-billion oil deal was described last summer in the International Herald Tribune as "the most significant development in the oil business since the Red Line Agreement of 1928."

Steve Remp, a former student of Professor P. Edward Haley, credits CMC for providing him with a solid background in international relations, which has been essential in his numerous successful business ventures.