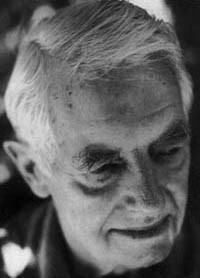 A Vision of the Future: Environmental Imperatives in the Twenty-first Century
DAVID BROWER
WEDNESDAY, FEBRUARY 7, 1996
David Brower, chairman of Earth Island Institute, is the most effective conservation activist in the world today, having spent more than 50 years as a pioneering leader who has developed a clear vision on environmental issues, strategies and solutions. Drawing from his experiences as rock-climber, editor, activist, naturalist guide, and beltway lobbyist, Brower perceives the numerous opportunities for us to make peace on and with the Earth. Brower joined the Sierra Club in 1933 and served as its first executive director (1952 to 1969). Under his leadership the Sierra Club's membership grew from 2,000 to over 77,000. In 1969 he founded Friends of the Earth (FOE) and the League of Conservation Voters. FOE is now active in 53 countries.

Through the years Brower has been active in creating national parks and seashores in Kings Canyon, the North Cascades, the Redwoods, Alaska, Cape Cod, Fire Island, and Point Reyes. He was also instrumental in keeping dams out of the Dinosaur National Monument, the Yukon, and the Grand Canyon. He advocates the creation of a National Biosphere Reserve System. Regarding expansion and the environment, Brower raises two questions: What kind of growth must we have, and what kind can we no longer afford?

In April 1995 Harper Collins released Let the Mountains Talk, Let the Rivers Run, a book about Brower's life and views on the global environmental crisis, cowritten by David Brower and Steve Chapple. His autobiography is in two volumes, and a video documentary about his life entitled For Earth's Sake (1995) has aired on PBS stations nationally. John McPhee's Encounters with the Archdruid (1971) is about Brower and three of his natural enemies.

Nominated for the Nobel Peace Prize in both 1978 and 1979, Brower's many honors include the John Muir Award and the Lewis Mumford Award. His lecture at CMC is sponsored by the Roberts Environmental Center.