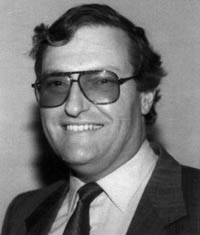 Genocide in Rwanda
EFRAIM ZUROFF
TUESDAY, FEBRUARY 13, 1996
Since the spring of 1994, over one million refugees have fled the civil war and ethnic violence in the small African country of Rwanda. The genocidal war that ensued between Tutsis and Hutus wrought physical, political, and economic havoc throughout the nation. In the still-unsettled aftermath of this destruction, however, Rwandans are now attempting to rebuild. The reimposition of justice and the rule of law are an integral part of this process. In late 1995, Eftaim Zuroff was invited to the Rwandan capital of Kigali to assist the local government in its efforts to bring to justice perpetrators of the genocide.

As the director of the Israel office of the Simon Wiesenthal Center, Zuroff is an authority on genocidal war criminals. He serves as the center's coordinator for worldwide efforts to locate and prosecute Nazi war criminals. With investigators like Zuroff, the center has tracked down over 2,100 suspects who emigrated to western democracies after World War II. In 1978, Zuroff became the first director of the Simon Wiesenthal Center in Los Angeles. He led the establishment of the center's library and archives and advised the center's Academy Award-winning documentary, Genocide (1981).

Zuroff 's expertise in the field of genocide has taken him around the world. In 1980 he moved to Israel, where he worked as a researcher for the U.S. Justice Department's Office of Special Investigations. While there, Zuroff helped to prepare cases against several Nazi war criminals living in the U.S. His research also revealed the whereabouts of hundreds of Nazis living in Australia, Canada, and Great Britain. He then rejoined the Wiesenthal Center to coordinate its international efforts in locating these criminals.

Zuroff 's work and research have forced the governments of Canada, Australia, and Great Britain to enact laws that would enable the prosecution of Nazi war criminals. His discovery of former Nazis in New Zealand led to the creation of a special police war crimes unit in 1991. Most recently, Zuroff has served as a member of the Israeli-Lithuanian commission of inquiry established to deal with Nazi war criminals in Lithuania.

In Occupation: Nazi-Hunter- The Continuing Search for the Perpetrators (1994), Zuroff details the efforts to prosecute Nazis in western democracies and explains the rationale for such efforts after several decades. His writings on other topics relating to the Holocaust and other Jewish concerns have appeared in Yad Vashem Studies, American Jewish History, the Los Angeles Times, and the Jerusalem Post.

A graduate of Yeshiva University, Zuroff holds an M.A. in Holocaust studies from the Institute of Contemporary Jewry of the Hebrew University. This lecture is sponsored by the John Brown Cook Association for Freedom.