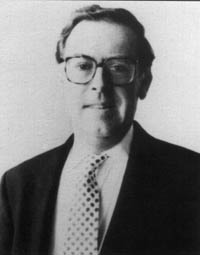 Pitbulls and Puffers: Politics and Choices in 1996
KEVIN PHILLIPS
WEDNESDAY, FEBRUARY 14, 1996
Political pundits have made a Sunday-morning industry of predicting the course of American politics. Few, however, have achieved the consistent accuracy of Kevin Phillips. His views on the national political scene and on economic trends are considered insightful by all his readers, including President Clinton. Ten days after he was inaugurated in 1993, the president traveled to Camp David with Phillips' Boiling Point--a book credited with reshaping the political and economic debate of the early 1990s.

With the publication of The Emerging Republican Majority (1969), Phillips established himself as a leading political analyst. This book not only became the "political bible" of the Nixon era, but it foretold a conservative shift in U.S. politics. Since then, Phillips has continued to present detailed analyses and reliable predictions.

In his most recent book, Arrogant Capital: Washington, Wall Street and the Frustration of American Politics (1994), Phillips examines American politics and economics as well as the world role of the U.S. in the 1990s. His other bestselling works include Boiling Point: Republicans, Democrats and the Decline of Middle Class Prosperity (1993) and The Politics of Rich and Poor: Wealth and the American Electorate in the Reagan Aftermath (1991).

Apart from serving as editor and publisher of his own newsletter, The American Political Report, Phillips writes a column for the Los Angeles Times while contributing periodically to The New York Times Magazine, The Washington Post, and the Harvard Business Review. He is currently a member of The Wall Street Journal's political strategist panel. Phillips has served as an expert commentator on National Public Radio and as a political analyst for CBS during the Democratic and Republican conventions of 1984, 1988, and 1992.

Phillips' career in politics began as an administrative assistant to a U.S. congressman from 1965 to 1968. He later served as chief political and voting patterns analyst for the 1968 Republican presidential campaign and as special assistant to the U.S. attorney general in 1969.

A magna cum laude graduate of Colgate University, Phillips earned a first class certificate in economics from the University of Edinburgh and a J.D. from Harvard Law School. This lecture is sponsored by Res Publica and the John Brown Cook Association.