Athenaeum Location
Print Newsletter
February 19, 1996
Vol. 11, No. 07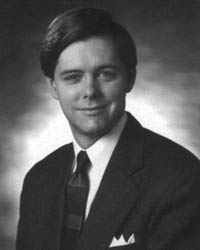 The Role of Religion and Values in American Politics
RALPH REED, JR.
MONDAY, FEBRUARY 19, 1996
The inevitable confluence of religious convictions and social problems has fomented intense national debate throughout this nation's history, affecting both legislative and judicial decisions. Religion has thus been a constant part of American politics. And perhaps no one else is better qualified to speak on this important matter than Ralph E. Reed, Jr.

As the executive director of the Christian Coalition, Reed heads one of the country's largest religiously-affiliated organizations that participates actively in U.S. politics. He leads approximately one million members and activists in 872 chapters in all 50 states. Operating full-time in 19 states, Reed's group has an annual budget of $20 million. These numbers and available funds demonstrate that the Christian Coalition enjoys a national prominence and influence that few other organizations may claim.

Developed through his college years, Reed's activist experience includes working for several grass-roots organizations and political campaigns. From 1982 to 1984 he served as the executive director of the College Republican National Committee, supervising the efforts of 100,000 members on 1,000 campuses across the United States. In 1984 he founded Students for America-a grass-roots network of conservative students on 200 campuses.

In the realm of electoral politics Reed is a veteran of several campaigns. Beginning with his first congressional campaign in 1976, he has worked on behalf of statewide candidates in Georgia, North Carolina, Virginia, and California. He also participated in Senator Jesse Helms's reelection campaigns in 1984 and 1990. During this time Reed consulted on 25 congressional and statewide campaigns.

A leading political analyst and strategist, Reed is a frequent guest on various television programs, including Larry King Live, Nightline, Meet the Press, and the Today show. His columns have been featured in The New York Times, The Wall Street Journal, National Review, and Policy Review.

Reed is a graduate of the University of Georgia and he holds a Ph.D. in American history from Emory University. As part of its ongoing series on The Changing Face of Religion in America, the Athenaeum invites students to take part in this unusual opportunity to meet with a foremost leader in the Christian community and one of its most influential actors in American politics. The John Brown Cook Association and the Salvatori Center are sponsoring Dr. Reed's visit to CMC. The dinner is open to CMC persons only and seating for the public is limited and not guaranteed.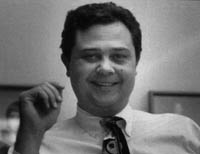 Conservative Revolution: The Future of American Politics
JEFFREY EISENACH '79
TUESDAY, FEBRUARY 20, 1996
As the president of the Progress and Freedom Foundation, CMC alumnus Jeffrey Eisenach leads the effort to build a cohesive conservative vision for the future of the United States. As Eisenach explained in the spring 1995 issue of Profile, he intends his think tank to be one of the "focal points for a conversation by which that vision is developed."

Eisenach warns that a conservative vision for the future has yet to take shape. In the same Profile interview, he states: "Conservatives have failed to present a compelling alternative for how to organize society." What is clear to him, however, is that the present system of government will have to change.

If Eisenach's mission is to define the future in terms of the recent conservative shift in American politics, he is certainly well connected and appropriately positioned. He founded his organization with George Keyworth, former director of the physics division at Los Alamos National Laboratory, in order to assemble visionaries who would speak about issues that affect the future.

He counts House Speaker Newt Gingrich among his closest associates, and his Progress and Freedom Foundation is a veritable Who's Who of published visionaries and conservative thinkers. Board members of the foundation include Arianna Huffington, author of The Fourth Instinct (1994) and wife of Michael Huffington, who unsuccessfully ran for the U.S. Senate from California; and James C. Miller, a former director of the Office of Management and Budget. Frank Luntz, president of the Luntz Research Companies, Inc., is an adjunct fellow.

A former executive director of GOPAC-the political action committee formed by Gingrich-Eisenach has also worked for the Federal Trade Commission. After graduating from CMC, he earned a doctorate at the University of Virginia.

The Athenaeum is pleased to present Jeffrey Eisenach as part of the Salvatori Center's series Politics and Ideas. Students are encouraged to meet and converse with a CMC alumnus who is now part of the dramatic changes that are taking place in the nation's capital.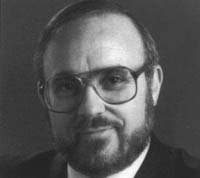 Hate Crimes on the Internet
ABRAHAM COOPER
WEDNESDAY, FEBRUARY 21, 1996
As the associate dean of the Simon Wiesenthal Center, Rabbi Abraham Cooper directs several international programs opposing worldwide anti-Semitism, Holocaust denial, and the threat of weapons of mass destruction. Throughout his career Rabbi Cooper has dedicated himself to educating people and laboring against discrimination and hate crimes. Cooper's visit to CMC is sponsored by the John Brown Cook Association for Freedom.

He supervised the research and production of the Interactive Learning Center on the Holocaust and World War II for the Beit Hashoah Museum of Tolerance. This endeavour consists of 4,000 separate entries by historians, 50,000 photos from archives in a dozen countries, and unique historical footage.

Cooper's activism on the behalf of Jewish causes has led him to work on five continents. In 1981 alone he was at the Stockholm hearings on Holocaust hero Raoul Wallenberg, at the first Reagan-Gorbachev summit in Geneva, and led the center's delegation to the Helsinki Review Conferences in Switzerland and Austria. He later took part in demonstrations in Bitburg, as President Reagan and Chancellor Kohl visited SS graves.

In the former Soviet Union he participated in the opening of the Jewish Cultural Center in Moscow and presented a special screening of Genocide, the Wiesenthal Center's Academy Award-winning documentary, to a group of Russian intelligentsia in 1988.

More recently, Cooper has worked in Asia to deal with the proliferation of anti-Semitic literature in Japan and to lecture in South Korea and the People's Republic of China. While in China, he led the Wiesenthal Center mission that brought the first Jewish-sponsored exhibition to that country. In 1992 he helped to coordinate an international conference on anti-Semitism, which was cosponsored by the Wiesenthal Center and UNESCO.
A graduate of Yeshiva University, Cooper is the editor-in-chief of Response magazine and is a contributing producer of Page One, a weekly syndicated radio magazine. His editorials have also appeared in The New York Times, the Los Angeles Times, Le Monde, and the Japan Times.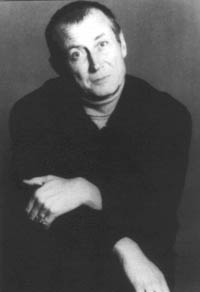 Poet Reads from His Work
YEVGENY YEVTUSHENKO
THURSDAY, FEBRUARY 22, 1996
Author of Don't Die Before You're Dead (1995), and 40 other volumes of poetry, Yevgeny Yevtushenko has been heralded not only as a poet, but also as a filmmaker, literary critic, and activist politician.

Born in Siberia, Yevtushenko moved to Moscow as a young man. At the age of 20, his poems about Stanlinist horrors made him a leader of the dissident shestidesyatniki, or sixties people. His poem Babi Yar (1961) was penned to protest the Nazi massacre of Soviet Jews in 1940s Ukraine. He has denounced anti-Semitism and censorship, and he had frequent clashes with Soviet leader Nikita Khrushchev. In 1968 he protested the invasion of Czechoslovakia. He also condemned the invasion of Afghanistan and supported the independence of Lithuania. Recently, in protest of Russian military action in Chechnya, he turned down a decoration from President Boris Yeltsin.

Yevtushenko's role in politics continued during the Cold War politics of the '70s and '80s. He was a firm supporter of Alexander Solzhenitsyn in the 1970s, and he worked closely with human rights advocate Andrei Sakharov.

His most recent volume of poetry, Don't Die Before You're Dead, is an account of the brief Soviet coup in August of 1991, organized by hardline Communists disenchanted with the reform policies of Mikhail Gorbachev. During the coup he delivered a poem on a balcony, alongside Boris Yeltsin. Don't Die Before You're Dead mixes both fiction and autobiography and documents the events and emotions that escaped the camera's eye. Through his poetry he strives to unite his homeland with the rest of the world.

For his efforts he has won an official Defence of Peace Award (1965), an Order of the Red Banner of Labor (1984), and was an elected deputy of the Soviet Parliament from 1989 to 1991.

The Gould Center for Humanistic Studies invites you to the Athenaeum to hear Yevtushenko read from his poetry.
Campaign '96
LYN NOFZIGER
MONDAY, FEBRUARY 26, 1996
The John Brown Cook Association for Freedom is sponsoring an evening address by Lyn Nofziger, a nationally recognized member of the Republican party, following a special dinner arranged by professor of government Alfred Balitzer.

After serving as editor and Washington correspondent for Copley Newspapers and Copley News Service, Nofziger first entered politics as press secretary to gubernatorial candidate Ronald Reagan in 1966. After the election Noftiger served as director of communications to the governor.

He also served Ronald Reagan as presidential press secretary from June to December 1980, as assistant to the president for political affairs, and as senior consultant to the Reagan-Bush '84 campaign. Nofziger has two decades of experience as a political consultant and is the founder of Nofziger Communications, Inc.

Nofziger first visited Claremont McKenna College in 1983, when he gave his appraisal of upcoming elections. We welcome his return to the Athenaeum to discuss the 1996 elections. The talk begins at 6:45 p.m. following a 5:30 reception and 6:00 dinner. Please contact Professor Balitzer at (909) 482-0820 for information or to make reservations.
The Challenge of Islamic Resurgence
SALAM AL-MARAYATI
MONDAY, FEBRUARY 26, 1996
Islamic movements around the world are gaining both electoral strength and greater numbers. This resurgence in religion-influenced political parties will undoubtedly affect U.S. foreign policy while influencing American popular perception of Muslims. According to Salam al-Marayati, the U.S. government must determine whether it will deal with Islamic extremists by employing the oft-successful diplomatic tool of dialogue or opting for the canned rhetoric that simply denounces them. Al-Marayati encourages Washington to use American Muslims as a critical link in the peace process.

As the director of the Muslim Public Affiirs Council (MPAC) in Los Angeles, al-Marayati is intimately familiar with the issues of faith and politics. With this nonprofit organization he works to increase involvement of Muslims in the U.S. political process while providing accurate information about Islam and its adherents. He began his career in Muslim public affairs in 1986, after serving as a volunteer public relations director for the Islamic Center of Southern California.

Nationally recognized as an activist who dispels negative stereotypes about Muslims, al-Marayati is also known for working with others to build coalitions. He has served as the co-chair of the Interfaith Coalition to Heal L.A.

Rabbi Harvey Fields of the Wilshire Boulevard Temple said of al-Marayati: "Salam presents the views of the Islamic community honestly and forthrightly. But he also has been a voice of reason and moderation-moving to keep partnerships together rather than drive wedges between them, including relations between the Jewish and Muslim communities."

Al-Marayati's experience also extends itself to the political field. An active member of the Democratic Party, he was a member of the Democratic National Committee at the 1988 convention, and he served on the platform committee at the party's 1992 convention. He is currently on the executive committee of the California Democratic Party. Despite his involvement in partisan politics, al-Marayati works to encourage Muslim participation in both national parties. He is currently assisting the American Muslim Alliance in coordinating strategies to further this cause.

A frequent columnist in several periodicals, al-Marayati's has written articles featured in the Los Angeles Times, USA Today, The Washington Report on Middle East Affairs, and The Atlanta Constitution.

The Athenaeum and the Muslim Students Association (M.S.A.) of the Claremont Colleges are pleased to present al-Marayati's lecture as part of the series The Changing Face of Religion in America.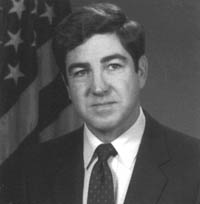 Advanced Technologies and Warfare in the Twenty-first Century
RONALD LEHMAN II '68
TUESDAY. FEBRUARY 27, 1996
The Keck Center for International and Strategic Studies is pleased to sponsor Dr. Ronald Lehman's lecture as part of its series on U.S. Foreign Policy in the Twenty-first Century.

The cascade of technology that characterized the 19th and 20th centuries has been characterized by an acceleration in the multiplication and application of which is called advanced technology. The electronic computer and its auxiliaries that were once accessible only to the centers of advanced research now are the commonplace hardware of a medical doctor's office, an insurance company, or the rooms of a college undergraduate, a high school or secondary school student, or even an ordinary taxpayer. This application of advanced technology to the conduct of foreign relations has been manifest in wars of this century and will certainly continue to be so in the 21st century. Anticipation of that is the obligation of statesmen and others constitutionally and morally responsible for the success of the foreign relations of the United States and the safety of the general citizenry and the territory that belongs to them.

Ambassador Ronald F. Lehman II, CMC class of 1968, has spent more than a score of years in the service of the United States-in the Defense Department as assistant secretary, in the State Department as U.S. chief negotiator on strategic offensive arms (START), and in the White House as deputy assistant to the President. Lehman is assistant to the director at the Department of Energy's Lawrence Livermore National Laboratory. From 1989 to 1993 he served as director of the U.S. Arms Control and Disarmament Agency. Lehman is a member of the Council on Foreign Relations, the Atlantic Council, the International Institute of Strategic Studies, and the Governing Board of the Keck Center.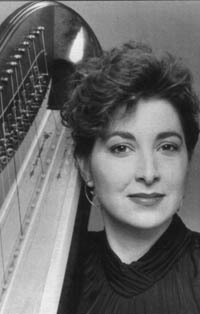 A Recital of Music for the Harp
MARIA CASALE
WEDNESDAY, FEBRUARY 28, 1996
As a world-class harpist, Maria Casale has enraptured audiences around the world, including performances in Japan, Europe, Israel, and Mexico. As a concert soloist she has played with the Los Angeles Philharmonic, the Israel Philharmonic, and Orquesta Sinfonica Nacional. She has also performed with the Santa Barbara Symphony, San Luis Obispo Mozart Festival, and the Peter Britt Music Festival in Oregon.

Maria Casale has received numerous honors, including a Gold Medal at the 1989 USA International Harp Competition and first prize in the American Harp Society Advanced Division. She has received the Ruth Lorraine Close Award twice. She was a finalist in the ninth International Harp Competition in Israel, and a semifinalist in the 32nd International Music Competition in Munich. A former student of the Juilliard School of Music, she is now professor of harp at both Pepperdine University and California State University at Northridge.

Ms. Casale's performance will feature the works of Handel, Albeniz, Alvars, Posse, and Benda. Her performance is part of the Stotsenberg Chamber Music Series.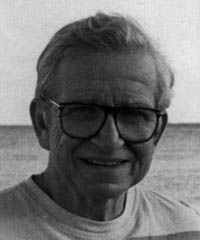 Booze and the Muse: The Mythology of Alcohol and Creativity
DAN WAKEFIELD
THURSDAY, FEBRUARY 29, 1996
Many artists and writers have experimented with alcohol in order to stimulate their creativity. Can alcohol really unleash creative power and stimulate the imagination, or is it simply a myth?

Dan Wakefield is a screenwriter, journalist, and bestselling author of 14 books. He created the NBC television series James at 15 (1977). Among his best known books is New York in the 50s (1992), in which he chronicles the lives of famous writers from his literary circle. Returning: A Spiritual Journey (1977) was heralded by Bill Moyers as "one of the most important memoirs of the spirit I've ever read." His most recent work, Expect a Miracle: The Miraculous Things That Happen to Ordinary People (1995), reports on true contemporary miracles from the United States and Europe and includes accounts from famous people like Judy Collins and author Michael Crichton as well as prisoners in Sing Sing.

Wakefield speaks from his own experience as well as the experiences of famous writers, musicians, and painters. The research into alcohol and creativity has led to the book Creating From the Spirit: Living Each Day as A Creative Act (1996).

Wakefield is currently teaching nonfiction creative writing at Florida International University in Miami and is a participant in the conference Addiction and Culture, sponsored by the Associated Deans of The Claremont Colleges and held at The Claremont Graduate School on February 29 through March 2.