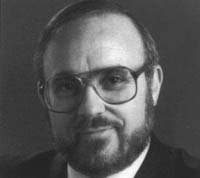 Hate Crimes on the Internet
ABRAHAM COOPER
WEDNESDAY, FEBRUARY 21, 1996
As the associate dean of the Simon Wiesenthal Center, Rabbi Abraham Cooper directs several international programs opposing worldwide anti-Semitism, Holocaust denial, and the threat of weapons of mass destruction. Throughout his career Rabbi Cooper has dedicated himself to educating people and laboring against discrimination and hate crimes. Cooper's visit to CMC is sponsored by the John Brown Cook Association for Freedom.

He supervised the research and production of the Interactive Learning Center on the Holocaust and World War II for the Beit Hashoah Museum of Tolerance. This endeavour consists of 4,000 separate entries by historians, 50,000 photos from archives in a dozen countries, and unique historical footage.

Cooper's activism on the behalf of Jewish causes has led him to work on five continents. In 1981 alone he was at the Stockholm hearings on Holocaust hero Raoul Wallenberg, at the first Reagan-Gorbachev summit in Geneva, and led the center's delegation to the Helsinki Review Conferences in Switzerland and Austria. He later took part in demonstrations in Bitburg, as President Reagan and Chancellor Kohl visited SS graves.

In the former Soviet Union he participated in the opening of the Jewish Cultural Center in Moscow and presented a special screening of Genocide, the Wiesenthal Center's Academy Award-winning documentary, to a group of Russian intelligentsia in 1988.

More recently, Cooper has worked in Asia to deal with the proliferation of anti-Semitic literature in Japan and to lecture in South Korea and the People's Republic of China. While in China, he led the Wiesenthal Center mission that brought the first Jewish-sponsored exhibition to that country. In 1992 he helped to coordinate an international conference on anti-Semitism, which was cosponsored by the Wiesenthal Center and UNESCO.
A graduate of Yeshiva University, Cooper is the editor-in-chief of Response magazine and is a contributing producer of Page One, a weekly syndicated radio magazine. His editorials have also appeared in The New York Times, the Los Angeles Times, Le Monde, and the Japan Times.