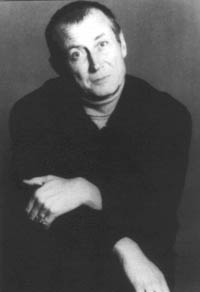 Poet Reads from His Work
YEVGENY YEVTUSHENKO
THURSDAY, FEBRUARY 22, 1996
Author of Don't Die Before You're Dead (1995), and 40 other volumes of poetry, Yevgeny Yevtushenko has been heralded not only as a poet, but also as a filmmaker, literary critic, and activist politician.

Born in Siberia, Yevtushenko moved to Moscow as a young man. At the age of 20, his poems about Stanlinist horrors made him a leader of the dissident shestidesyatniki, or sixties people. His poem Babi Yar (1961) was penned to protest the Nazi massacre of Soviet Jews in 1940s Ukraine. He has denounced anti-Semitism and censorship, and he had frequent clashes with Soviet leader Nikita Khrushchev. In 1968 he protested the invasion of Czechoslovakia. He also condemned the invasion of Afghanistan and supported the independence of Lithuania. Recently, in protest of Russian military action in Chechnya, he turned down a decoration from President Boris Yeltsin.

Yevtushenko's role in politics continued during the Cold War politics of the '70s and '80s. He was a firm supporter of Alexander Solzhenitsyn in the 1970s, and he worked closely with human rights advocate Andrei Sakharov.

His most recent volume of poetry, Don't Die Before You're Dead, is an account of the brief Soviet coup in August of 1991, organized by hardline Communists disenchanted with the reform policies of Mikhail Gorbachev. During the coup he delivered a poem on a balcony, alongside Boris Yeltsin. Don't Die Before You're Dead mixes both fiction and autobiography and documents the events and emotions that escaped the camera's eye. Through his poetry he strives to unite his homeland with the rest of the world.

For his efforts he has won an official Defence of Peace Award (1965), an Order of the Red Banner of Labor (1984), and was an elected deputy of the Soviet Parliament from 1989 to 1991.

The Gould Center for Humanistic Studies invites you to the Athenaeum to hear Yevtushenko read from his poetry.