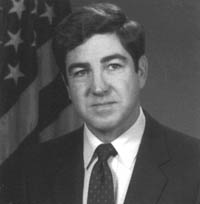 Advanced Technologies and Warfare in the Twenty-first Century
RONALD LEHMAN II '68
TUESDAY. FEBRUARY 27, 1996
The Keck Center for International and Strategic Studies is pleased to sponsor Dr. Ronald Lehman's lecture as part of its series on U.S. Foreign Policy in the Twenty-first Century.

The cascade of technology that characterized the 19th and 20th centuries has been characterized by an acceleration in the multiplication and application of which is called advanced technology. The electronic computer and its auxiliaries that were once accessible only to the centers of advanced research now are the commonplace hardware of a medical doctor's office, an insurance company, or the rooms of a college undergraduate, a high school or secondary school student, or even an ordinary taxpayer. This application of advanced technology to the conduct of foreign relations has been manifest in wars of this century and will certainly continue to be so in the 21st century. Anticipation of that is the obligation of statesmen and others constitutionally and morally responsible for the success of the foreign relations of the United States and the safety of the general citizenry and the territory that belongs to them.

Ambassador Ronald F. Lehman II, CMC class of 1968, has spent more than a score of years in the service of the United States-in the Defense Department as assistant secretary, in the State Department as U.S. chief negotiator on strategic offensive arms (START), and in the White House as deputy assistant to the President. Lehman is assistant to the director at the Department of Energy's Lawrence Livermore National Laboratory. From 1989 to 1993 he served as director of the U.S. Arms Control and Disarmament Agency. Lehman is a member of the Council on Foreign Relations, the Atlantic Council, the International Institute of Strategic Studies, and the Governing Board of the Keck Center.