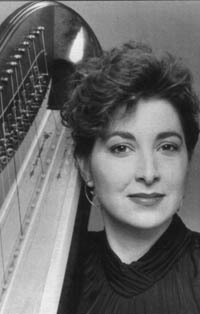 A Recital of Music for the Harp
MARIA CASALE
WEDNESDAY, FEBRUARY 28, 1996
As a world-class harpist, Maria Casale has enraptured audiences around the world, including performances in Japan, Europe, Israel, and Mexico. As a concert soloist she has played with the Los Angeles Philharmonic, the Israel Philharmonic, and Orquesta Sinfonica Nacional. She has also performed with the Santa Barbara Symphony, San Luis Obispo Mozart Festival, and the Peter Britt Music Festival in Oregon.

Maria Casale has received numerous honors, including a Gold Medal at the 1989 USA International Harp Competition and first prize in the American Harp Society Advanced Division. She has received the Ruth Lorraine Close Award twice. She was a finalist in the ninth International Harp Competition in Israel, and a semifinalist in the 32nd International Music Competition in Munich. A former student of the Juilliard School of Music, she is now professor of harp at both Pepperdine University and California State University at Northridge.

Ms. Casale's performance will feature the works of Handel, Albeniz, Alvars, Posse, and Benda. Her performance is part of the Stotsenberg Chamber Music Series.