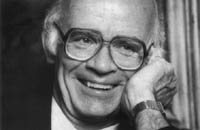 The Changing Face of Religion in America: Religious Fundamentalism
MARTIN MARTY
THURSDAY, MARCH 28, 1996
Martin Marty is one of this country's foremost theologians, consistently expanding the common understanding of faith and advancing the scholarly study of religion. For over 35 years, he has examined the role of religion in the United States and its evolving relationship with American politics, free thought, and constitutional law. In his return visit to the Athenaeum, Marty will speak to the dynamic changes that are now taking place in the religious world and their potential impact on America as a whole. During his last visit on the occasion of the bicentennial celebration of the United States Constitution, Marty explained how a multiplicity of religious congregations helped to create the fundamental principles of that document.

Marty is a prolific writer who has written over 40 books on religion in America. These include: The Glory and the Power: The Fundamentalist Challenge to the Modern World (1993); The Infidel: Free Thought and American Religion (1961); Religion and Republic: The American Circumstance (1987); and Pilgrims in Their Own Land: 500 Years of Religion in America (1984). He has served as senior editor of the weekly The Christian Century, editor of the fortnightly newsletter Context, and coeditor of the quarterly, Church History. His book, Righteous Empire: The Protestant Experience in America (1970), won the National Book Award in 1972.

Since 1963 Marty has taught at the Divinity School of the University of Chicago where he is the Fairfax M. Cone distinguished service professor of the history of modern Christianity. He also teaches as part of the history department and the committee on the history of culture.

A holder of 25 honorary doctorates, Marty is a past president of the American Academy of Religion, the American Society of Church History, and the American Catholic Historical Association. He is a member of the American Academy of Arts and Sciences, the Society of American Historians, and the American Antiquarian Society.

Marty earned his Ph.D. from the University of Chicago in 1956. He served ten years in the pastorate after having been ordained as a Lutheran to the Christian ministry in 1952.

The Marian Miner Cook Athenaeum and the Chaplains of The Claremont Colleges are pleased to sponsor Professor Marty's visit as part of the ongoing series "The Changing Face of Religion in America."