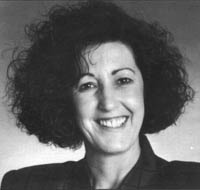 Orange County Politics: Post Bankruptcy
EILEEN PADBERG
TUESDAY, MARCH 5, 1996 12:15 p.m.
Is the ruthless cut-and-thrust world of campaign parties an all-male preserve? Or can a woman prosper and flourish as a leading campaign manager? Is Orange County monopolized by conservative Republicans and the "Christian Right"? Or can a pro-choice feminist play a leading behind-the-scenes role?

Eileen Padberg is uniquely qualified to give answers to these questions. She has managed public affairs and political campaigns in both the public and private sectors for more than twenty years. In 1986 she managed the Clint Eastwood for Mayor of Carmel campaign, as well as many successful campaigns from governor to City Council, including two major statewide initiatives. In 1988 Padberg served as the Western Regional Political Director of the George Bush for President campaign in California, Hawaii, and Nevada.
On the corporate side, Padberg provides strategic planning and corporate public affairs services for clients which include a national not-for-profit organization to combat drunk driving and the illegal use of alcohol by minors. She also organizes and manages grassroots coalitions in fifteen cities nationwide. Padberg is an appointee of Governor Pete Wilson to the commission on the Status of Women and is active in the Trusteeship, a network of Southern California professional women.

The Rose Institute of State and Local Government and the Athenaeum are sponsoring this lecture and discussion on the political and economic climate in Orange County. Lunch is served at 11:45 a.m. Eileen Padberg will speak at 12:15 p.m.