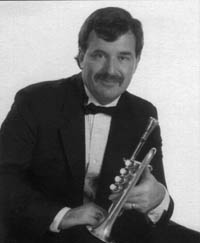 Three Centuries of High Brass
JAMES KLAGES, cornet & trumpet
HAO HAUNG, piano
TUESDAY, APRIL 9, 1996
James Klages is an internationally known trumpet and cornet soloist. As a member of the President's Own United States Marine Band, he has performed extensively throughout the United States, Ireland, Israel, and Jordan. An experienced soloist, he was the first person to be hired as cornet soloist in this century. He has been soloist at Interlochen, Wolftrap Farm Park, Constitution Hall, Meirhoff Hall, and every major band festival in the United States. In addition to concert appearances, he has performed on National Public Radio and Public Television.

Klages performed the solo trumpet part of Handel's Messiah (1741) at the Church of the Nativity in Bethlehem, Israel for an internationally broadcast television special and sound recording in an innovative and ground-breaking performance. He played for King Hussein's birthday celebration in Amman, Jordan, and was twice invited to return. Currently, he is professor of trumpet and jazz at Fort Lewis College in Durango, Colorado.

Klages will be accompanied on piano by Hao Hating, professor of music at Scripps College. Together, these two musicians cofounded the Animas Music Festival in Durango, Colorado.

Their program will include selections from Joseph Haydn, Carl Hohne, Giuseppe Torelli, and Alexander Artunian. Klages will be performing on B, C, and piccolo trumpets, cornet, and flugel horn. The recital is the final concert of the 1995-96 Stotsenberg Chamber Music Series.