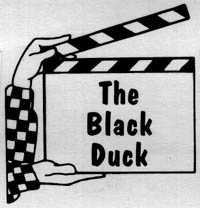 Dinner Theater
The Black Duck by Bill Svanoe
Thursday-Saturday, April 11-13, 1996
DINNER AND PLAY 6:00 p.m.
A Special Notice to the CMC Community

Take one idealistic, out-of-work soap opera actor following his dream, add his big city violinist wife and drop them in a small New England town. Then add a not-so-honest local Mr. Fix-it who is feuding with his wife, the local plumber/electrician. Stir in an uptight financial wizard who has just met the love of his life, a greedy Oceanographic Institute, and an embittered Russian aunt, and you have a kitchen tested recipe for laughter!

So come watch, laugh, and of course, eat, as CMC's "Under the Lights" performs Bill Svanoe's The Black Duck (1991), a hilarious look at what happens when this strange bunch pulls together to open a restaurant and fulfill a dream-all before 5:00 p.m. Friday! Did you know that Black Ducks are good luck?

Seating will be festival style and is limited. Sign up as soon as possible, circling your first, second, and third choice of date. You will be contacted if your first choice reservation date is unavailable.