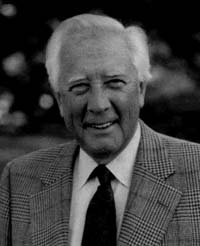 From a Historian's Perspective
DAVID McCULLOUGH
TUESDAY, SEPTEMBER 10, 1996
Are we ready to accept the reality that in a government of the people it is not some longed-for leader who will save the day? If we're looking for leadership, the place to look is in the mirror.

-David McCullough
National Book Awards Ceremony
November 15, 1995

Biographer, historian, lecturer, teacher: David McCullough is the author of six widely-acclaimed books, including Truman (1992), one of the most popular American biographies of all time and winner of the Pulitzer Prize. This work of ten years was an unprecedented national best seller. The book played an important role in the 1992 presidential election, bringing the life and character of President Harry S. Truman to the attention of both candidates and to the nation.

As the nation again considers the "character issue" in the 1996 presidential campaign, and the CMC community reflects upon the 1946 postwar era during which it was founded, David McCullough is the ideal person to inaugurate the Athenaeum's 1996-97 lecture series.

McCullough's first book, The Johnstown Flood, published in 1968, was followed by The Great Bridge: The Story of the Building of the Brooklyn Bridge (1972); The Path Between the Seas (1977), an epic chronicle of the creation of the Panama Canal; Mornings on Horseback (1981), the life of young Theodore Roosevelt; and Brave Companions: Portraits in History (1991), essays on heroic figures past and present. He has received the Francis Parkman Prize, the Los Angeles Times Book Award, and two National Book Awards. He received an Emmy for his work in Public Television, which includes hosting The American Experience and narrating Ken Burns's The Civil War (1990).

Born in Pittsburgh in 1933, McCullough was educated at Yale, where he was graduated with honors in English literature in 1955. He holds 20 honorary degrees and has taught at Cornell University, Dartmouth College, and the Wesleyan University Writers Conference.

David McCullough is the first Pacesetters Fellow to visit CMC as part of the Pacesetters Memorial Fund, established to commemorate deceased members of the Classes of 1948, 1949, and 1950.

Dinner reservations are for members of the CMC community only. The 6:45 p.m. lecture is open to all, no reservations required.