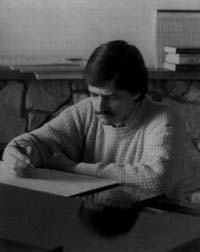 Mark Masters Jazz Orchestra: Big Bands Then and Now
MARK MASTERS, conductor, Mark Masters Jazz Orchestra
BILL PERKINS, tenor saxophone
GARY FOSTER, saxophone
SLYDE HYDE, trombone
JACK MONTROSE, bass clarinet
RON STOUT, trumpet
CARL SAUNDERS, trumpet
JOE LABARBERA, drums
MONDAY, SEPTEMBER 23, 1996
The Mark Masters Jazz Orchestra, formed in 1982, has been recognized by aficionados as one of the leading jazz bands in Los Angeles. Featured in the orchestra will be musicians such as Bill Perkins, Gary Foster, Slyde Hyde, Jack Montrose, Ron Stout, Carl Saunders, and Joe LaBarbera. These musicians as well as others in the band have worked and toured with Stan Kenton, Woody Herman, Horace Silver, Toshiko Akiyoshi, Shorty Rogers, and Maynard Ferguson, to name a few.

The first part of the program will highlight music from some of these renowned bands. You will remember tunes like "Early Autumn" from Woody Herman's library, "Five Brothers" from the Claude Thornhill band, and Count Basie's "All of Me," as well as "Things Ain't What They Used to Be" from the great Duke Ellington Orchestra.

The rest of the evening will feature arrangements by Mark Masters from his two latest discs, Priestess (1992) and Jimmy Knepper Songbook (1993). The Masters arrangements explore the present while paying tribute to the past greats of big band jazz.

Seating for dinner is limited to CMC persons only. However, the 6:45 p.m. concert is open to all, no reservations required.