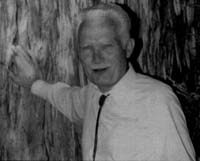 Aleksandr Kerenski's Prediction and the Unpredictable Claremont McKenna College
TED HINCKLEY '50
THURSDAY, SEPTEMBER 26, 1996
In 1946 a generous GI Bill enabled Ted Hinckley to enroll in the just-created Claremont Men's College, now Claremont McKenna College. Aircrewman Hinckley received his honorable discharge on 4 May 1946 after wartime duty with Navy Air's famed Torpedo Squadron Six. Historian Hinckley's autobiographical War, Wings, and a Western Youth, 1925-1945 (1996) describes his pre-CMC years growing up in Pasadena, followed by his service in the Pacific War during World War II. "Here, embedded in a violent moment of modern history, is a searching personal vignette of one who survived and a warm tribute to many comrades who did not."

Like many veterans apprehensive at the return of another 1930s Depression, Hinckley sought economic security for himself and his postwar family. However, his love of history superseded a career in business. Before finishing his Ph.D. in American history from Indiana University in 1961, Hinckley had completed postgraduate work and taught in Missouri, Iowa, and at his Claremont alma mater. Hinckley "relished the good life" for three decades as professor of history at San Jose State University (1959-1990) where he was named Outstanding Professor of the Year in 1981.

Currently an emeritus professor (SJSU) and an adjunct professor of history (Western Washington University), Hinckley is also the author of three books on Alaskan frontier history and has edited another six dealing with various aspects of American history. Another recent book, The Canoe Rocks: Alaska's Tlingit and the Euramerican Frontier, 1800-1912, was released in 1995.

For his Athenaeum talk, Hinckley will examine some important historical issues, paying particular attention to the 20th century. He will undoubtedly have interesting reflections on "CMC's 1940s gestation and its GIs."

This will be a rare and wonderful opportunity to meet one of CMC's Pacesetters (first graduates) and a distinguished American historian-so be sure to sign up for the dinner, or stop by the Athenaeum for Professor Hinckley's address at 6:45 p.m.