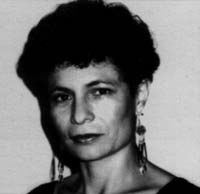 Crossing the Border: U.S. Latino Writers on the Move
HELENA MARIA VIRAMONTES
MONDAY, OCTOBER 7, 1996
Helena Maria Viramontes, author of The Moths and Other Stories (1985) and Under the Feet of Jesus (1995), will be the second of several prominent writers who will visit CMC over the course of the fall 1996-97 semester to participate in the Gould Center's series on U.S. Latino literature. The series, organized and directed by Emmy Award-winning journalist Ruben Martinez, will provide a forum for artists who have brought to their work a variety of backgrounds, experiences, and outlooks. As Martinez puts it, "Though their experiences and styles differ, the Caribbean-American writers of the East Coast or the Chicano/Mexican-American authors of the West allow us a glimpse of the future in their works; no matter what the political outcome of the battle over immigration or the 'culture wars,' the Latino literary voice posits that American culture is on the move again, remaking itself for the 21st century."

The reception of Viramontes's work validates Martinez's assertion. In 1995 she was awarded the John Dos Passos Prize for Literature "for her use of places and characters that are distinctly American, yet are not usual or stereotypical in American fiction; the amazing variety and experimentalism of her individual works of fiction; and, above all, the stunning unity of each work, with word and idea, image, symbol, and theme all woven into a seamless whole." A native of East Los Angeles, Viramontes, who studied with Nobel laureate Gabriel Garcia Marquez and Schindler's List (1993) author Thomas Keneally, credits her mentors with reinforcing "my increasing admiration for the power of imaginative renderings of worldviews . . ."

Viramontes currently teaches at Cornell University, where she continues to add to her already considerable output of essays, screenplays, and literary fiction. At present, she is at work on several projects, among which is her second novel, Their Dogs Came with Them (1996).