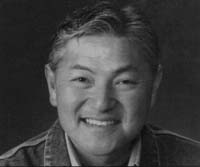 An Evening With a Peach and Its Farmer
MAS MASUMOTO
WEDNESDAY, OCTOBER 9, 1996
Although Mas Masumoto's book Epitaph for a Peach: Four Seasons on My Family Farm (1996) has won awards under the category of food writing, this family farmer's message is more cultural than culinary. Distressed at the possibility of having to plow under his delicious Sun Crest peachtree orchard because the fruit lacks a shelf life, Masumoto decided to keep hope, turn away the bulldozers, and document his experiences.

The result is a lyrical testimony of small family farming, an endangered way of life in an America sometimes in conflict with the business of farming. The narrative is also a personal meditation on how our society values food, family traditions, and community. A third-generation farmer and Japanese American living in eastern San Joaquin Valley, Masumoto grows peaches and grapes and raises two children with his wife, Marcy. His peaches are a part of his family history, but the vagaries of fruit markets and the impersonal hand of nature make for an uncertain future.

"My peaches are part of a tradition on our farm, they hold meaning for my family," he writes. "But the pressures for progress challenge that meaning. My peaches are like the traditions of the homeland- you don't simply leave them behind, you carry them with you like historical baggage."

Masumoto is also the author of Silent Strength (1984), Home Bound (1989), and Country Voices: The Oral History of a Japanese American Family Farm Community (1987), as well as several newspaper and magazine articles. He received the James Clavell Japanese American National Literacy Award in 1986 and Epitaph for a Peach won the 1995 Julia Child Cookbook Award in the Literary Food Writing category, despite the fact that the book contains no recipes. Mas Masumoto is also a farm activist and member of the California Council for the Humanities.

Please join the Athenaeum and Mas Masumoto for a reflective evening on culture and values, including a reading from Epitaph for a Peach.