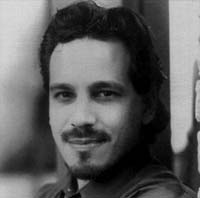 Crossing the Border. U.S. Latino Writers on the Move
RUBEN MARTINEZ
WEDNESDAY, OCTOBER 30, 1996
Ruben Martinez, poet, performer, journalist, and teacher, will give the fifth in a series of readings in the Gould Center-sponsored program spotlighting U.S. Latino writers. Martinez also serves as organizer and director of the series, which complements and amplifies the Gould Center undergraduate seminar he is teaching this fall.

Martinez, well known to public-television viewers as the Emmy Award-winning cohost of KCET's Life and Times, has also won widespread critical and popular acclaim for his written journalism and poetry. Among the many citations that bear witness to the excellence of his achievement are a Greater Los Angeles Press Club Award, poetry prizes from the Santa Monica Arts Council and the University of California at Irvine, and a Freedom of Information Award from the American Civil Liberties Union. His first book, The Other Side: Notes from the New L.A., Mexico City, and Beyond (1993), is a collection of verse and essays that grapples with the United States and Mexico's tense embrace of each others' peoples, politics, cultures, and senses of history and of what the future will bring.

"U.S. Latino literature is my passion," writes Martinez. "Whether tackling the issues of race and class within the context of the country's 'culture wars' or venturing into binational dialogues over U.S.-Latin American relations, these are writers of conscience as well as craft.... Whether one uses the term 'melting pot' or 'mixed salad " Latino writers announce a cultural transformation on the level of what occurred in early 20th-century America."

A man of unassailable conscience and craft, Martinez has spent over a decade working with students at public and private schools-from Hollenbeck Junior High in East L.A. to Claremont McKenna. He is working on his second book, a journalistic novel about the changing cultural and political landscape of Mexico.