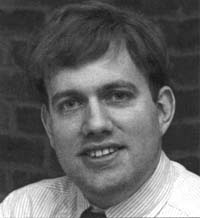 The Language of the New Majority
FRANK LUNTZ
TUESDAY, OCTOBER 15, 1996
Just how powerful is the language used by our politicians today? Can the use, or nonuse, of certain words by our elected representatives affect the way we think about the American political scene? The Henry Salvatori Center and the Athenaeum invite you to hear Frank I. Luntz propose answers to these and other questions. Using the upcoming election as an example, Luntz will demonstrate the importance of politicians' use of key words and phrases in trying to assemble a new majority coalition in American politics.

Luntz was the first pollster to predict a 1994 Republican majority. The pollster of record for the Republican Contract with America, he won the Washington Post's Crystal Ball award in 1992.

Time magazine named Luntz one of "America's 50 most promising leaders, age 40 and under." Newsweek credits him as one of the three primary engineers of the 1994 Republican congressional campaign strategy. Luntz has made frequent guest appearances on Meet the Press, This Week with David Brinkley, Nightline, Crossfire, The Today Show, CNN's Inside Politics, and Good Morning America.

Luntz graduated with honors from the University of Pennsylvania with a B.A. in history and political science and earned a doctorate in politics at Oxford.

Among his many publications are Candidates, Consultants, and Campaigns: The Style and Substance of American Electioneering (1988), as well as frequent op-ed pieces for the Wall Street Journal, The Washington Post, and The New York Times.