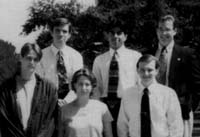 Student Debate: Election 1996
MARK MEHRINGER '98
EMILY SCHUCKMAN '99
STEPHEN MANSELL '99
ANDREW ORR '99
ASHWIN NAVIN '99
CHRIS SKINNELL '99
MONDAY, OCTOBER 28, 1996
Youth are notorious for poor turnout in elections, yet CMC manages a thriving political discourse. Representatives from the Claremont McKenna College Republicans and College Democrats put themselves to the task of defending and explaining the agenda and vision of their respective parties and candidates for president.

From the right, the College Republicans feature three of CMC's more prominent conservatives. Andrew Orr '99 is a two-year member of the College Republicans and a member of the Claremont debate team. Ashwin Navin '99 is a vocal conservative student senator and an editor of the new conservative paper on campus, The Claremont Independent. Rounding out the trio is Chris Skinnell '99, chairman of the ASCMC publications board and an editor with the Independent.

The Democrats will be represented by Mark Mehringer '98, Emily Schuckman'99, and Stephen Mansell '99. Mehringer is the president of the Democrats of The Claremont Colleges, and Mansell is one of the vice presidents. Mehringer spent last spring working for the Clinton-Gore'96 reelection campaign. Schuckman last year earned the respect of her fellow CMC debate team members through consistently impressive performances. This past summer, Mansell worked for the local Democratic candidate for Congress, David Levering.

This debate will be modeled after the two presidential debates. Representatives from the Forum and Collage will be given the chance to ask questions. Members of the audience will be invited to put questions to the representatives, as well. We invite you to join us for a fun, informative, and exciting evening of debate.