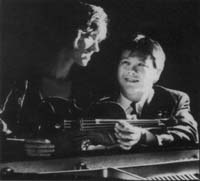 An Evening of Slavic Music with the Mei Duo
RACHEL VETTER HUANG, violin
HAO HUANG, piano
TUESDAY, NOVEMBER 19, 1996
You are cordially invited to the Athenaeum for a night of Slavic passion in sight and sound, the first concert in the Stotsenberg Chamber Music Series for the 1996-97 academic year. The program will feature pianist Hao Huang performing the original solo piano version of Modest Mussorgsky's "Pictures at an Exhibition" (1874), together with slides of the visual works by Alexander Hartman that were the work's direct inspiration.

Hao Huang and violinist Rachel Vetter Huang, known as the Mei Duo, will also perform works by Antonin Dvorak and Bela Bartok, including Dvorak's luscious "Romance" (1879) and Bartok's vivid "Rumanian Dances" (1915). The Mei Duo has been honored by the National Endowment for the Arts and the National Endowment for the Humanities. Together, they have lectured extensively on violin-piano repertoire in chamber music, and they were selected as feature performers for the 1994 world conference of the International Society for Music Education.

Rachel Vetter Huang has appeared as soloist with the Boston Pops, the Concord Symphony Orchestra, and others. She was awarded scholarships to attend the Aspen and Tanglewood Music Festivals, and she has been featured on several radio and television networks on the East Coast. Holding degrees from Harvard University and SUNY Stony Brook, Rachel Vetter Huang is a member of the music faculty at Scripps College.

Hao Huang graduated from Harvard University, Juilliard, and SUNY Stony Brook. Among his awards are the Overman Foundation first prize, the Frank Huntington Beebe grant for European study, and the New York City Solo Debut Artist Award from the China Institute in America. Huang served as an artistic ambassador of the United States Information Agency on four overseas tours. He was a featured soloist at the Cultural Olympiad of Catalonia preceding the Barcelona Olympic Games. Hao Huang is currently a professor of piano at Scripps College and The Claremont Graduate School.