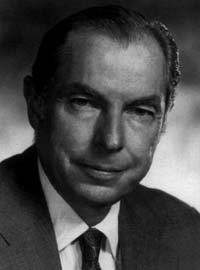 Money: Back to the Future?
WALTER WRISTON
WEDNESDAY, NOVEMBER 20, 1996
Walter Wriston has enjoyed an unchallenged reputation as one of the most influential bankers of the 20th century. A visionary who rose to the top of one of America's giant banks-First National City (later Citibank)-Wriston transformed not only his own institution but much of the finance and banking in the United States and the world. Challenging the White House and Congress as well as the Federal Reserve, Wriston revolutionized consumer banking, the use of bank credit cards, and interstate banking by encouraging deregulation. His practice of free market principles made Citicorp as powerful in world affairs as many countries.

In addition to serving as chairman of Citibank, Wriston was also chairman of President Reagan's Economic Policy Advisory Board. Long an advocate of the use of technology to improve the banking industry, Wriston has become a prophet of cybertechnology in finance.

Walter Wriston has written a number of books and essays, including Risk and Other Four-Letter Words (1986) and The Twilight of Sovereignty (1992). He was the subject of a recent 900-page biography by Phillip L. Zweig, and he was featured on the cover of the October issue of Wired magazine.

Please join us for this talk by one of America's great financial pioneers. Walter Wriston's address is sponsored by the Res Publica Society and the Marian Miner Cook Athenaeum.