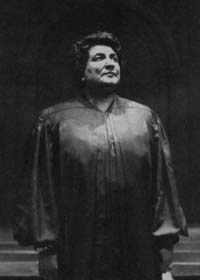 Dr. Martin Luther King Jr. Commemorative Lecture
The Supreme Court and Affirmative Action
CONSTANCE BAKER MOTLEY
TUESDAY, JANUARY 21, 1997
In the 1950s and 1960s, the courts of our country were battlegrounds in the war for civil rights. One of the leaders in the effort was Constance Baker Motley, longtime counsel for the National Association for the Advancement of Colored People (NAACP) and later a federal court judge.

Judge Motley finished college (Fisk and New York University) in two-and-a-half years and graduated from Columbia University School of Law in 1946. During her senior year at Columbia she accepted a position as clerk for Thurgood Marshall, who was then the head of the NAACP Legal Defense and Educational Fund. She worked for 20 years with the NAACP Legal Defense Fund, becoming its principal trial attorney, and she was one of the lawyers who helped write the briefs filed in the U.S. Supreme Court in the leading school desegregation case, Brown v. Board of Education, in 1954. She argued ten cases before the U.S. Supreme Court, winning nine, which were of key importance in bringing about the legal death of discrimination. The litigation that resulted in the admission of James Meredith to the University of Mississippi, Charlayne Hunter Gault and Hamilton Holmes to the University of Georgia, Vivian Malone and James Hood to the University of Alabama, and Harvey Gantt to Clemson College in South Carolina are some of her better known cases.

When President Lyndon Johnson appointed Constance Baker Motley to the United States District Court in 1966, she became the first black woman appointed to the federal judiciary. On her election to the New York senate in 1964 she became the first black woman to serve in that branch of the legislature, and she was the first woman Manhattan borough president (1965-66).

This year marks the eighth annual lecture at the Marian Miner Cook Athenaeum commemorating the birthday of Dr. Martin Luther King Jr. Everyone is welcome to join with the Athenaeum and the Office of Black Student Affairs for this rare opportunity to meet and hear one of this nation's most distinguished jurists.