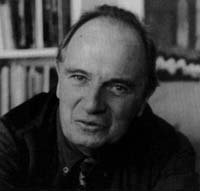 An Account of Homer's Iliad
CHRISTOPHER LOGUE
THURSDAY, FEBRUARY 6, 1997
Christopher Logue's account of Homer's Iliad (800 B.C.E.) is one of the major achievements of postwar English poetry. George Steiner has called it "a work of genius ... the most magnificent act of translation going on in the English language at the moment," while Louis MacNeice praised it as "not a translation but a remarkable achievement of empathy," and Henry Miller exclaimed, "I'm crazy about it. Haven't seen such poetry in ages."

Logue has given an apt description of what his Iliad is all about: "I want to write a dramatic poem in English that is dependent on the Iliad, and yet will revitalize narrative verse. I aim to make my Homer poem true to my idea of the Iliad. " With cinematic speed and haunting lyric power, Logue gives us a close-up view of war unlike anything else in recent poetry.

Christopher Logue was born in 1926 in Portsmouth, England, and was educated at Prior Park College, Bath, and Portsmouth grammar school. He moved to Paris in 1951, where he met and worked with, among other writers, Samuel Beckett.

His first book of poems, Wand and Quadrant, was published in 1953, followed by Devil, Maggot, and Son (1956). He moved back to London in 1958 and went on to produce poetry, translations of Villon and Neruda, plays, films, scripts, and songs, including the album, Red Bird (1959), the most successful British poetry/jazz disc. He has been a contributor to the satirical magazine Private Eye since 1960 and has published two collections from his column, "True Stories" (1973 and 1980). Logue's account of the Illiad has been published in three volumes, War Music: An Account of Books Sixteen to Nineteen of Homer's Iliad (1981), Kings: An Account of Books One and Two of Homer's Iliad (1991), and The Husbands: An Acocunt of Books Three and Four of Homer's Iliad (1995), and all will be issued in a single volume this spring from Farrar, Straus and Giroux.

This is Logue's first trip to California from his home in London. Please join us for this rare performance of a major work of contemporary English poetry.