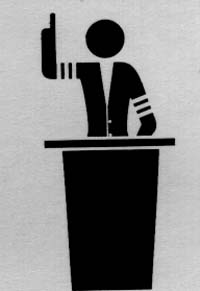 Government and Philosophy Faculty Debate:
The Criminal Justice System Should Be Based on Retribution
MARK BLITZ
JIM NICHOLS, JR.
JOHN ROTH
STEVEN SMITH
MONDAY, JANUARY 27, 1997
A dearth of interdepartmental debates at CMC is finally being rectified as the government and philosophy departments square off in a formal duel of wits and intellect at the Athenaeum. Claremont McKenna College professors Mark Blitz, James Nichols, John Roth, and Steven Smith will represent their respective departments. The event will be student-directed, and the questions will remain undisclosed until the time of the debate in order to ensure spontaneity.

The debaters for government are academics of the finest caliber. Mark Blitz, the Fletcher Jones Professor of Political Philosophy, received his A.B. and his Ph.D. from Harvard University. A recent arrival at CMC, Blitz is teaching Leadership in Management during the spring semester. Jim Nichols, Jr. received his B.A.. from Yale College and his Ph.D. from Cornell University. Nichols is teaching Introduction to Political Philosophy and Political Philosophy and Foreign Policy during the spring semester.

The government team will be put to the test by John Roth, the Russell K. Pitzer Professor of Philosophy, who received his B.A. from Pomona College and his Ph.D. from Yale University. Roth was recognized in 1988 as the national Professor of the Year by the Council for Advancement and Support of Education and the Carnegie Foundation for the Advancement of Teaching. He is teaching the Philosophy Seminar for the politics, philosophy, and economics program (PPE) during spring semester. Steven Smith, who earned his B.A. from Earlham College and his Ph.D. from Harvard, will be teaching Theories of the Good Life and Environmental Ethics during the spring semester.

You will not want to miss an event that promises to be entertaining, interesting, and intellectually stimulating, as well as providing the opportunity to become acquainted with four of CMC's most popular and distinguished teachers.