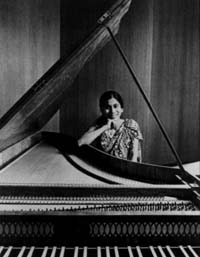 Con Gioia Early Music Ensemble: Concert Commemorating Mozart's 241st Birthday (January 27), Schubert's 200th Birthday (January 31), and the 150th Anniversary of the Death of Fanny Mendelssohn-Hensel (1805-1847)
MARYBETH HAAG, soprano
CHARLES ZUKOVSKY, clarinet
ROLAND KATO, viola
PREETHI DE SILVA, fortepiano/director
TUESDAY, JANUARY 28, 1997
Based in Claremont, Con Gioia ("With Joy") is composed of some of the best performers of early music in the United States and they are often joined by prominent musicians from Europe. Following its debut in 1982, the ensemble has continued to provide Southern California audiences with outstanding early music performances on period instruments.

The program this evening will include Mozart's Trio in E-Flat, K498 (Kegelstatt), Schubert's The Shepherd on the Rock, and a selection of songs by Fanny Mendelssohn-Hensel.

Preethi de Silva, founder-director of Con Gioia, is an internationally acclaimed concert and recording artist on the harpsichord and fortepiano. She has recorded several volumes of keyboard works by C.P.E. Bach, as well as three piano concertos by Mozart. She holds diplomas in performance from the Royal Academy of Music, London, and the Hochschule fuer Musik, Berlin, and earned the doctorate in musical arts at Yale University. She is a professor of music at Scripps College and serves on the faculty of The Claremont Graduate School.

MaryBeth Haag is a frequent recitalist in the Los Angeles area. In addition to her 16 operatic roles, she has performed chamber music at the Oberlin Baroque Performance Institute and the San Luis Obispo Mozart Festival. She is on the music faculty of Scripps College and The Claremont Graduate School.

Roland Kato is principal violist of the Los Angeles Chamber Orchestra. He also has appeared as soloist and recitalist on both viola and viola d'amore at national and international music festivals. He performs regularly with period instrument ensembles and has recorded works by Telemann and contemporary composers.

Charles Zukovsky, a graduate of UCLA, performs on clarinet, recorder, and baroque oboe. He has played with virtually every orchestra in the Southland, from the Debut Orchestra to the Los Angeles Philharmonic, as well as in numerous chamber music groups performing on period instruments.

This concert is the second in the Stotsenberg Chamber Music Series, funded by a generous gift from Ed and Dorothy Stotsenberg, friends of CMC.