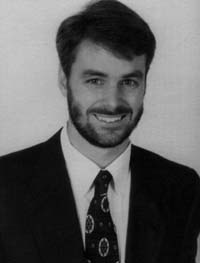 Berlin 2000: The Center of Europe
DAVID DOUD '90
WEDNESDAY, JANUARY 29, 1997
How is German reunification progressing in the formerly divided Berlin? What does Germany's decision to move its capital back to the heart of Europe mean for the European Union's trade, investment, and expansion into Central Europe? David Doud '90 addresses these intriguing questions and more in his discussion of the dynamic developments in reunification. He will look at the challenges faced by East Germans adapting to a democratic, capitalist economy and the negative impact of Western prejudices, the legacy of the East German communist regime, antiforeigner violence, the asylum law crisis, and foreign integration policy.

Doud provides an insider's perspective into Germany, using his experience as the only American staff member in the Berlin government from 1991 to 1993. Doud also worked as staff fellow for Congressman Gilman on the International Relations Committee in the United States House of Representatives 103rd Congress and for the House Wednesday Group on NATO expansion. Berlin 2000: The Center of Europe was published in 1995.

Doud received his B.A. from Claremont McKenna College in chemistry and government and did his graduate work at Berlin's Humboldt University.

Take advantage of this opportunity to meet one of CMC's distinguished alumni as the Athenaeum continues to mark the College's 50th anniversary.