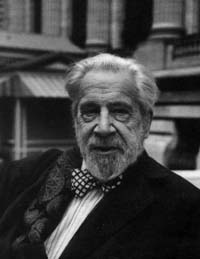 Poet Reads from His Work
ANTHONY HECHT
WEDNESDAY, FEBRUARY 5, 1997
Anthony Hecht is among the finest poets and critics of the last 40 years. Brilliantly crafted and dignified, his poems embody both intellectual power and an unnerving ability to explore the grotesque suffering of humanity in history and the painful isolation of private life. The Pulitzer Prize, Bollingen Prize, and Prix de Rome are among the awards that testify to his indelible impact on modern literature.

In addition to several volumes of poetry, including The Hard Hours (1967), A Summoning of Stones (1954), Millions of Strange Shadows (1977), and The Venetian Vespers (1979), Hecht has published numerous essays and translations, including his grand study of the poetry of W. H. Auden, The Hidden Law (1993). His most recent book is Flight Among the Tombs (1996).

He was born in New York City on January 16, 1923 and studied at Bard and Kenyon Colleges and at Columbia University. In between stints at school, Hecht served in the Army from 1943 until 1946 in France, Germany, Czechoslovakia, and for eight months of occupation duty in Japan. He has taught at Bard, Smith, the University of Rochester, and, since 1985, has been professor of English at Georgetown University.

Please join us to hear one of the most accomplished and brilliant of modern American poets.