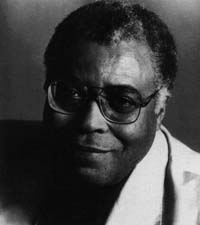 Black History Month
An Afternoon with James Earl Jones
JAMES EARL JONES
SUNDAY, FEBRUARY 16, 1997
4:00 p.m., Bridges Auditorium

In celebration of Black History Month and Claremont McKenna College's 50th anniversary, the Office of the Dean of Students and the Marian Miner Cook Athenaeum are privileged to host James Earl Jones in a public lecture. This special event is open to all members of the Claremont community.

Although Jones is best known for his work in film and television, he began his acting career in the theater. He was in the historic company that incubated a generation of future black stars and produced Jean Genet's The Blacks (1959). In the New York Shakespeare Festival, which Jones has participated in since 1959, he has played roles from Hamlet to King Lear. The awards he received for his stage work in the 1960s presaged his current success as a nationally known screen actor.

Jones was nominated for the Academy Award for his role as Jack Johnson in the film The Great White Hope (1970), after earning the Tony Award for the same role on stage. The diverse litany of his roles from theater to television to film include those on Broadway in Master Harold... and the Boys (1982) and Fences (1987) as well as the voice of Darth Vader in the original "Star Wars" trilogy (1977, 80, 83), and in Stanley Kubrick's Dr. Strangelove (1964) opposite George C. Scott. More recently, Jones appears in the film version of Cry the Beloved Country (1995).

Among his many awards and recognitions, Jones holds honorary doctorates from Yale, Princeton, and Columbia Universities. In 1992 he was awarded the National Medal of Arts by President Bush. He is also the recipient of the prestigious NAACP Hall of Fame Image Award for his great contribution to the arts. In 1990 the Los Angeles Film Teachers Association presented him with the Jean Renoir Award for his collected work.

You are welcome to join Claremont McKenna College for this special event featuring one of America's most respected and celebrated veteran actors.

James Earl Jones will speak at 4:00 p.m. in Bridges Auditorium, 450 North College Way. There is no reserved seating and the doors will open at 3:00 p.m.