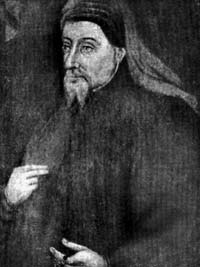 Chaucer and His Voyeurs: Medieval Texts, Early Modern Readers
SETH LERER
THURSDAY, FEBRUARY 20, 1997
Seth Lerer was born in Brooklyn the year before the Dodgers left for California. After attending Wesleyan University, Oxford, and the University of Chicago, and teaching at Princeton for ten years, he eventually followed them-winding up not in Los Angeles, but Stanford, where he joined the faculty as professor of English.

He has published widely in the field of medieval studies, and his interests include the history of reading, courtly culture, and children's literature. He also is a member of the Department of Comparative Literature at Stanford, where he serves as director of undergraduate studies. His most recent book is Courtly Letters in the Age of Henry VIII: Literary Culture and the Arts of Deceit, to be published by Cambridge University Press in the summer of 1997.

Lerer's talk will blend poetry and politics through the perennially fascinating figure of Pandarus in Chaucer's Troilus and Criseyde (1386). Pandarus' blend of counsel, secrecy, and eroticism became a model for the conduct of poets, lovers, diplomats, and aristocrats throughout the Renaissance.