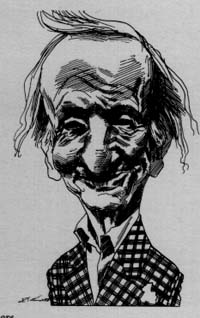 A Reading and Discussion of His Work
BRIAN MOORE
MONDAY, MARCH 3, 1997
The life of Paul Touvier ended in a prison hospital bed in July 1996. As the first Frenchman to be convicted of committing crimes against humanity for aiding the Nazis in Vichy, France, his story has attracted the interest of scholars around the world.

Novelist Brian Moore has taken on the monumental task of creating a fictional thriller based loosely on the life of this fascinating man. In The Statement (1996), Moore sets up a tale of a man on the run, hunted by those seeking revenge for past wrongs.

Born in Belfast, North Ireland, in 1921, Brian Moore came to the United States in 1980. His other works include The Color of Blood (1987), Lies of Silence (1990), and No Other Life (1993). He is the recipient of the U.S. Arts and Letters Award, the Guggenheim Fellowship, and the Los Angeles Times Lifetime Achievement Award, among others.

Please join us for a reading from this talented writer's latest work.