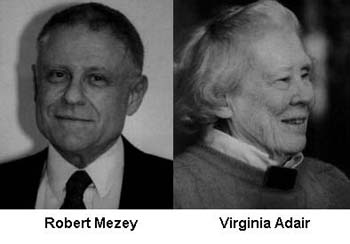 Readings From Three Poets: Robert Mezey, Virginia Adair, and Jorge Luis Borges
ROBERT MEZEY
VIRGINIA ADAIR
TUESDAY, MARCH 4, 1997
The term 'new poet' evokes images of some young talent, just discovered in the cafes of the Village or San Francisco. However, in our own Claremont lives Virginia Hamilton Adair, an octogenarian, and recently discovered poet.

Poet Galway Kinnell remarked that Ms. Adair "has arrived in our world like a comet." Indeed, although she has been writing poetry for years, she was reluctant to publish her prodigious works. However, literary critic Alice Quinn believes that "by not publishing she was free to write about everything in her own time and in a totally honest way."

As a young college student at Mount Holyoke, Adair twice received the Galscock Prize which is awarded to the most promising poet in the Ivy League. While a graduate student at Harvard she was published in the New Republic, The Atlantic Monthly, and The Saturday Review of Literature.

During World War II she and her husband, an historian, lived an academic and domestic life, and eventually transplanted to California when her husband received a position at The Claremont Graduate School.

Adair taught for many years at California State Polytechnic in Pomona. After her husband's death in 1968, she continued to live and write poetry in Claremont and also helped to found Mount Baldy's Zen center.

Adair, who is blind, will attend the reading, but her champion, friend, and fellow poet Robert Mezey will read her poems as well as his own.

Pomona College's poet-in-residence, Mezey is a familiar artist to readers of The New Republic, The New York Review of Books, Kenyon Review, The New Yorker, American Poetry Review, and Harper's.

His poems have been printed in several anthologies and translations of his work have been published in Italy, Israel, India, Spain, and the former Yugoslavia.

His books include The Lovemaker (1960), which won the Lamont Award, A Book of Dying (1970), Small Song (1979), and Selected Translations 1960-1980. Most recently, his volume Evening Wind (1987) received a P.E.N. prize and the Bassine Citation. He was awarded the Robert Frost Prize and has won fellowships from the Ingram Merril and Guggenheim Foundations and the National Endowment for the Arts.

Robert Mezey is also a renowned translator of the poetry of the great Argentine writer Jorge Luis Borges. Mezey will read tonight from Borges's brilliant and powerful verse.