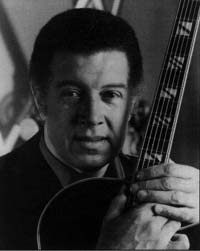 An Evening of Jazz
KENNY BURRELL
WEDNESDAY, MARCH 5, 1997
"Kenny Burrell represents the ne plus ultra of Jazz guitar artistry."

-Leonard Feather, Los Angeles Times

From the very beginning, at the root of what was to become jazz, the music had to do with telling a story. The musicians spoke to their listeners about common concerns-having the blues, losing the blues, looking for a good time, looking for love that would last. The instruments would speak as well as sing. Kenny Burrell comes out of this tradition, helping to keep it alive.

Burrell completed his formal training with a bachelor of arts degree in music composition and theory from Wayne State. His study of the classical guitar was with the eminent Joseph Fava. He made his first road tour with the Oscar Peterson Trio in 1955 and in 1956 moved to New York where he began to establish himself as one of the top guitarists in jazz.

Having worked with the late great Duke Ellington, Burrell has for several years taught a course on Ellington at UCLA. He is now the director of the jazz program at UCLA, relocating to Los Angeles in September 1996.

A complete Burrell discography would take pages since he has recorded more than 60 albums as a leader. Over the last 20 years he has recorded with major jazz artists, including John Coltrane, Coleman Hawkins, Dizzy Gillespie, Stan Getz, Benny Goodman, and Grover Washington, Jr.

The Athenaeum is fortunate to be able to host an artist with the stature of Kenny Burrell. The concert is made possible through the generosity of Ed and Dorothy Stotsenberg, friends of CMC.