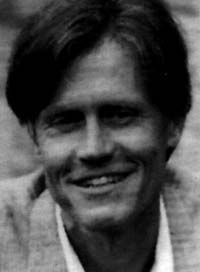 Natural Capitalism
PAUL HAWKEN
THURSDAY, MARCH 6, 1997
Paul Hawken finds himself in the unique and seemingly contradictory position of existing as not only a successful businessman but also as a well-known environmentalist.

He is aptly described as having a vision that is "neither left nor right but way up front." His best-selling book Growing a Business (1987), on which a PBS series was based, outlines the difficulties and rewards of running socially responsive companies. His other best-seller, The Ecology of Commerce: A Declaration of Sustainability (1993), took a step further to explore the possibility of a steady-state economy based on improving rather than degrading the natural environment.

However, Hawken is a realistic visionary who practices what he preaches. He is cofounder of the environmentally motivated retail company Smith & Hawken, and presently serves as the chairperson of The Natural Step, a nonprofit educational foundation which assists business and government leaders worldwide in using environmentally sound practices as a competitive advantage.

For his work, Hawken has been awarded the Small Business Administration's "Entrepreneur of the Year 1990," and the Council on Economic Priorities "Environmental Stewardship Award 1991." In 1995 Utne Reader named him as one of the "100 Visionaries Who Could Change Our Lives."

Paul Hawken's address is sponsored by the David E. French Lectureship Fund of The Claremont Graduate School and the Roberts Environmental Center of Claremont McKenna College.