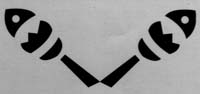 The Traditional Cahuilla Bird Singers
PAUL APODACA
ALVINA SIVA
WEDNESDAY, MARCH 12, 1997
Born in Los Angeles of Navajo, Mexican, and Spanish heritage, Paul Apodaca could have taken his talent and energies in any one of a number of directions. He has taken them all, becoming actively involved in the Native American, Hispanic, and arts communities on a state and national level.

Apodaca is a professor at Chapman College; visiting professor at UCLA, where he is also a Ph.D. candidate; consultant to the Smithsonian; and board member of the California Council for the Humanitites and the California Arts Council. He wrote and performed the musical score for the feature documentary, Broken Rainbow (1986), which won an Oscar and also helped to stop a planned government relocation of 12,000 Navajo from their reservation in Arizona. For the Athenaeum he adds yet another role as cultural emissary for a performance of the Traditional Cahuilla Bird Singers.

Alvina Siva is the leader of the Traditional Cahuilla Bird Singers and has trained a number of young men with support from the California Arts Council Folk Art program. The Cahuilla Bird Song tradition is an example of a southern California song-cycle that conveys a myth, song by song, so that a complete telling of the myth is an all-night performance. In their mythical tradition the Cahuilla state that they traveled along the world three times before settling into the hillside and desert communities of southern California.

You are welcome to join the Athenaeum for an evening of music and story-telling from the tradition of California's earliest settlers.