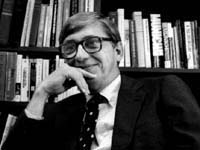 Cold War Stories
GAINES POST, JR.
THURSDAY, MARCH 27, 1997
A look at Professor Gaines Post's professional biography leaves no doubt that he has devoted his working life to academia, specifically in the humanities. He says that he has devoted his private life to his family, wine tasting, and backpacking-the latter two not simultaneously.

After a stint in the United States Army, Post followed up his Cornell degree in Oxford as a Rhodes scholar from 1961 to 1963, and he received his Ph.D. in modern European history at Stanford University in 1969. After leaving Stanford, where he was an instructor in the western civilization program, he taught at the University of Texas in Austin until 1983.

Leadership positions are not foreign to Post, who was dean of faculty and senior vice president at Claremont McKenna College from 1983 to 1988. From 1978 to 1981 he served as executive director of the Commission on the Humanities, sponsored by the Rockefeller Foundation. He currently chairs the history department at CMC.

Post has served on various educational committees at both the national and local level, including the Community College Humanities Association and the California Council for the Humanities.

His course repertoire includes topics on modern Europe and Germany, European diplomacy and civil-military relations, the World Wars through fiction and memoirs, and historical biography. He is currently writing a book on the Cold War in Europe during the 1950s.

Post will read passages from his new book during his Athenaeum talk. The subject of his Athenaeum presentation-and the book-is the affect of memory and personal experience on an understanding of history.

You are welcome to join the Athenaeum for an evening with one of CMC's most distinguished and respected professors.