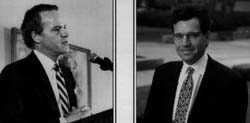 The Kravis Leadership Conference
Leadership Lite: Winning Formula for Investment Banking
HARRY McMAHON '75
HENRY KRAVIS '67
THURSDAY, MARCH 13, 1997 12:30 p.m.
In 1985 the Henry R. Kravis Professor of Leadership and Organizational Psychology was established with a gift from Henry Kravis '67. Soon after, because of his interest in expanding the college's leadership studies, Kravis made it possible through a generous gift to create the Kravis Leadership Institute. In 1994 the institute office and staff took shape and the institute's programs began. Professor Ron Riggio took over as institute director in July 1996.

The Kravis Leadership Institute sponsors leadership studies at Claremont McKenna College. The institute hosts conferences, workshops, speaker series, and conducts research on leadership applications, contributing to the growing body of knowledge in the field. Through fellowships and internships and independent studies, the institute involves a number of undergraduate students in institute programs, which include education, research, and community outreach.

Harry McMahon currently serves as a trustee of Claremont McKenna College, where he is also a member of the board of governors of the Henry Kravis Leadership Institute. He earned his M.B.A. in finance from the University of Chicago in 1980 and his B.A. in economics and international relations from Claremont McKenna College in 1975.

McMahon is currently responsible for the corporate investment banking activities for Merrill Lynch in their western region and has been instrumental in leading over 100 corporate finance, strategic advisory, or merger and acquisition projects. He joined Merrill Lynch in 1983 and prior to his move to Los Angeles held positions in both capital markets and corporate finance.

Henry Kravis will greet attendees and introduce Harry McMahon. Please join the institute staff and the board of governors for what will be an informative program and discussion led by this CMC alumnus and leader in the field of investment banking.

Due to limited seating, this event is open to CMC persons only. Lunch is served at 12:00 p.m. Henry Kravis will introduce Harry McMahon at 12:30 p.m.