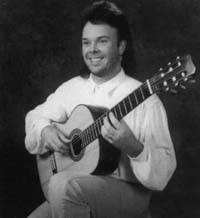 Music for Classical Guitar
GORDON O'BRIEN
TUESDAY, APRIL 1, 1997
He is on the way to joining that small group of truly fine guitarists that grace the world's concert stages.

-Harold Levy, Toronto Star

Called the "next Segovia" by Canadian classical guitarist Liona Boyd, Gordon O'Brien has been amazing audiences since the age of twelve when he performed the Concierto de Aranjuez with the Toronto Symphony Orchestra.

O'Brien, now in his twenties, has since gone on to win firstprize awards in many prestigious international competitions, including the John Williams Australian International, the Leo Brouwer Martinique International, and the International Guitar Concerto Competition in New Mulford, Connecticut. In May 1995 O'Brien won the $10,000 first prize in the Stotsenberg International Classical Guitar Competition at USC. There were 63 entries from 25 nations in this competition. Gordon O'Brien is proving himself to be a world-class musician as he impresses audiences throughout the world.

This evening's concert is part of the Stotsenberg Chamber Music Series at the Athenaeum, sponsored by Ed and Dorothy Stotsenberg, friends of CMC.