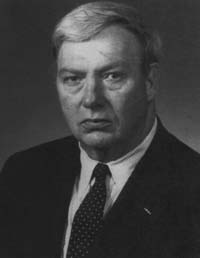 Strategic Prescriptions for the Future
HARRY SUMMERS JR.
WEDNESDAY, APRIL 2, 1997
An Army War College distinguished fellow and graduate, the Marine Corps University's 1994-95 chair of military affairs, and a decorated veteran of the Korean and Vietnam wars, Harry G. Summers Jr. is now a syndicated columnist for the Los Angeles Times.

He is the editor of Vietnam magazine and a member of the Council on Foreign Relations and the International Institute for Strategic Studies. He has given testimony before Congress and lectures at the White House on military strategy.

Colonel Summers's award-winning critique of the Vietnam War, On Strategy: A Critical Analysis of the Vietnam War (1982), was followed by On Strategy II: A Critical Analysis of the Gulf War in 1992, which The New York Times calls "the best of any Gulf War book to date." General Colin Powell called Summers's 1995 The New World Stategy "must reading." Summers has also published a series of war almanacs and Historical Atlas of the Vietnam War (1995).

His other publications include a stint as chief military correspondent for U. S. News and World Report and contributing editor for the late Defense and Diplomacy magazine. His articles and reviews have appeared in American Heritage, The Atlantic Monthly, Harper 's, the Los Angeles Times, The New York Times, The Wall Street Journal, and The Washington Post.

The Harry Summers lecture at the Athenaeum is sponsored by the Keck Center for International and Strategic Studies at Claremont McKenna College.