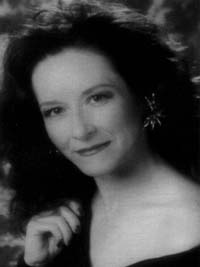 Fanny and Friends: Historical Interpretation of Women's Changing Roles on the Oregon Trail
JOYCE BADGLEY HUNSAKER
THURSDAY, APRIL 3, 1997
Imagine what it would be like to relive the history of your ancestors. Joyce Badgley Hunsaker, a fourth generation Oregon Trail pioneer descendant, has tried to step into the shoes of her own great-grandmother and other women like her.

Hunsaker, an extraordinarily talented actress, has researched the journals and records of the many individuals who crossed the Oregon Trail in the period between 1840 and 1875. Using information gathered from museums, library archives, and her own family's artifacts, Hunsaker has created a one-woman act in which she portrays Fanny, a composite character who might have lived during this period of American history. Fanny speaks first-person with her audience about her Oregon Trail experiences-from her husband selling their Missouri farm to arriving in the "promised land." She details not only the physical journey of 2,000 miles, but also the emotional and psychological demands of the trip. Fanny's trail tale is from a female perspective.

Hunsaker's many honors include recognition from the National Association of Interpretation and an invitation to perform for Senate and House leaders in Washington, D.C. Hunsaker has written two books, Fanny (1994) and The Oregon Trail Center at Flagstaff Hill (1995). She has appeared extensively on television and radio including spots on CBS, NBC, CNN, A&E, and PBS.

Please join the Athenaeum for Joyce Badgley Hunsaker's historical interpretation as part of the series of programs entitled Moving West.