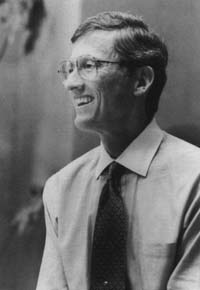 Linda Sobek: Murder of a Model
STEPHEN KAY '64
TUESDAY, APRIL 8, 1997
She was 27 years old. A fashion model just beginning her career, Linda Sobek was brutally assaulted and murdered by someone she thought she could trust. In December 1996 Charles Rathbone, the man convicted of killing her, was sentenced to spend the rest of his life in prison. The man who prosecuted the case was CMC alumnus Stephen Kay.

Kay, a 1964 graduate of Claremont McKenna College, received his law degree from Boalt Hall at the University of California, Berkeley. Since then, Kay has been involved in a number of high-profile cases with the Los Angeles County Public Defender's Office. Within the last year he helped to put away the killer of 12-year-old Polly Klaas, a highly controversial case involving kidnapping and murder. During his time as a prosecutor, District Attorney Kay has also worked on the Charles Manson murders and the Hillside Strangler case.

Please join us at the Athenaeum for a gripping evening as Stephen Kay discusses the case of Linda Sobek.