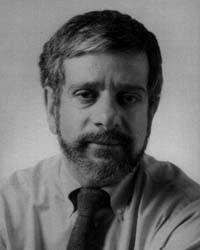 Community and the Future of American Government
ALAN EHRENHALT
THURSDAY, APRIL 10, 1997
The term 'Washington Insider' was created to describe individuals such as Alan Ehrenhalt. Born and raised in Chicago, he has lived and worked in the nation's capital since he was 22 years old.

Alan Ehrenhalt began his career in journalism as a reporter for the Associated Press in Chicago. He moved with lightspeed to the Washington fast track, where he took a job writing for Congressional Quarterly. His biweekly column for this publication was awarded the Everett McKinley Dirkson award in 1983 for distinguished reporting. Ehrenhalt is the creator and editor of the first four editions of Politics in America (1983), a biennial reference book that profiles all 535 members of the House and Senate.

Ehrenhalt is currently the executive editor of Governing magazine. He has written two books, The Lost City: The Forgotten Values of Community in America, published in 1995, and The United States of Ambition: Politicians, Power and the Pursuit of Office, published in 1991. This renowned journalist received his B.A. from Brandeis University and his M.S. from Columbia University. He has been a visiting professor at both Harvard and the University of California at Berkeley.

You are welcome to join the Athenaeum for this lecture and discussion by Alan Ehrenhalt, sponsored by the Rose Institute for State and Local Government.