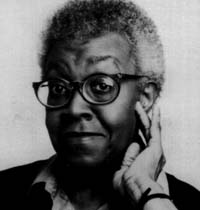 Poet Reads From Her Work
GWENDOLYN BROOKS
MONDAY, APRIL 14, 1997
Gwendolyn Brooks is one of the most influential and important poetic voices of modern America. Her early poetry, dramatic character studies from the fictional ghetto "Bronzeville" focused on the lives of local people who represent all that is "luminously indiscreet." She achieved early success for exciting experiments with rhythm, her passionate attention to details, and powerful refrains.

In 1967 her work began to change as she began to write more directly about her experiences as a black woman and a poet. In her hometown of Chicago, where she has lived since 1917, Brooks organized workshops for young black writers and helped the white community to become aware of the power and depth of a new generations of black poets. Her heroic voice has borne witness to and been a voice for change in the tumultuous decades of post-World War II America.

Gwendolyn Brooks has received many honors including the Pulitzer Prize for her book Annie Allen (1989) and was appointed Poet Laureate of Illinois (1968-present), succeeding Carl Sandburg. The Gwendolyn Brooks Junior High School in Harvey, Illinois was named in her honor in 1981, and she has been Distinguished University Professor at Chicago State University. Please join us for this reading by one of America's legendary bards.