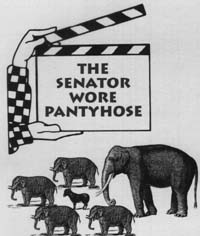 Dinner Theater
The Senator Wore Pantyhose by Billy Van Zandt and Jane Milmore
April 17-19, 1997 Dinner and Play 6:00 p.m.
So, what does the American public look for when voting for a president? Honesty? Commitment to issues? Integrity? Paige Gordon (Alicia Keyes), campaign advisor to presidential hopeful Senator Gabby Sandalson (Chris "Cha Chi" Monjoy) doesn't think so, and she is out to make sure her honest candidate wins-using the time honored methods of scandal, mud-slinging and show-biz. Besides dragging him to the Sluckup Inn in rural Pennsylvania and scheduling him to kiss the local girl's (Nikki Smythe) baby, Paige mousses Gabby's hair, darkens his eyebrows, and sets up a false scandal to get publicity. She also secures him the support of the televangelist Rev. Johnny Burgemeister (Austin Sheppard), and his loyal wife, Honey Pie (Kiki Gaffney). However, Burgemeister refuses to support the senator until he meets Mrs. Sandalson (Lisa Wile)-but no one seems to know where she is, especially not the escaped convicts Antonia Pinella (Biff Jones) and Paddy McMutton (Louis Levine) who keep telling everyone that he is the future First Lady!

As night falls on the Sluckup Inn, the confusion mounts, and everyone, even the Inn's fussy, antique-loving owner (Chris Rogers) gets caught with their pants down when Dawn "Scoop" Bother (Jen Hagen) arrives to cover a scandal that quickly becomes far larger than the false one Paige manufactured. So, don't wait for the tabloids-come see for yourself what happens when Under the Lights performs Van Zandt and Milmore's farcical spoof of political campaigning, The Senator Wore Pantyhose (1989). It may forever change your view of running for president-and convince you that you never want to!

Seating will be festival style and is limited. Sign up as soon as possible, circling your first, second, and third choice of date. You will be contacted if your first choice reservation date is unavailable.