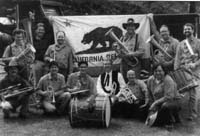 California Gold Rush Band: Gold Rush Period Music
LES BENEDICT
KEVIN MAYSE
RICH CHASIN
STEVE CHARPIE
TOM BRIDGES
TIMM BOATMAN
ROBB STEWART
ROD MATHEWS
BUDDY LANG
SCOTT HELBERG
BILL REICHENBACH
JOHN BECK
MONDAY, APRIL 21, 1997
In January 1848 gold was discovered at Sutter's Mill. This event marks the beginning of a mass migration to California as dozens of miners came to pan the river for the precious commodity. With this rush of people came a call for society and entertainment, and dozens of musicians and bands stepped in to answer that call.

The California Gold Rush Band is an authentic portrayal of the numerous brass bands that existed during this period in American history. Using genuine 19th century brass instruments and richly designed costumes, the members of this group transport audiences back to a time when California was still young and the promise of gold was as real as it has ever been.

Members of the California Gold Rush Band have worked hard to recover music from the Gold Rush period, although much of it has been destroyed by fires and earthquakes. Extensive research has allowed them to put together several fantastic programs to recreate both the music and the mood of the time.

The California Gold Rush Band is comprised of professional musicians from the Los Angeles area who are active in studio, symphonic, commercial, and chamber music. They have performed at brass band festivals in Kentucky, Michigan, South Dakota, and Montana, as well as in a number of museums and historical celebrations. They recently released a recording, The Brass Mounted Army: Music of the Old Horse Cavalry, which features music associated with the early U.S. Cavalry.

You won't want to miss this final program in the Athenaeum series Moving West.