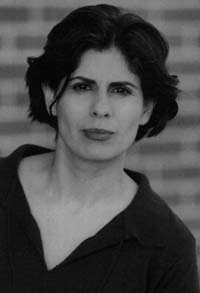 Social Responsibility and Filmmaking
LAURA SIMON '85
THURSDAY, SEPTEMBER 11, 1997
The movie has an immediacy, a truth, an impact that comes out of the fact that it was shot while it was happening, by somebody who was actually living it.

-Roger Ebert
In 1994 when voters in California approved Proposition 187, the controversial bill that would deny public education and health care to undocumented immigrants, teacher Laura Angelica Simon made a film documenting how the issue divided her school. Armed with borrowed equipment and tapes donated by the Museum of Tolerance, Simon and friend Tracey Trench pooled their money, found a crew willing to work for free, and created the film Fear and Learning at Hoover Elementary (1997). This hour-long documentary was one of 34 films (out of 800 submissions) selected by this year's prestigious Sundance Film Festival, where it was the winner of the Freedom of Expression Award.

Located on a street dividing two rival gang territories, Hoover Elementary is in the Pico Union neighborhood, known as the Ellis Island of Los Angeles. According to Simon, 90 percent of the students at Hoover are economic and political refugees from Mexico, Guatemala, and El Salvador living in one of the poorest neighborhoods in Los Angeles. As a teacher at Hoover Elementary, Simon was able to access other teachers (both for and against the measure) and their young students-the overlooked victims of the debate and whose childhood has been sacrificed to this political agenda. The deep divide between racial groups at the school, and within the Latino community itself, could only have been discovered by a filmmaker who has lived within, and struggled deeply with, the heartbreaking realities of the new American immigrant experience in inner city schools.

In her film Simon presents both sides of the debate and has earned praise and criticism from people in both camps. Although she "passionately voted no" on Prop. 187, Simon has never seen her film as a political project. "I saw it as historic, about a place in L.A.... Some people get frustrated with me for not telling them what to think. This is not a black-and-white issue that can be resolved in a tidy way in an hour. Reality lives in the gray."

At six Simon legally immigrated from Mexico with her parents, experiencing alienation and discrimination as a Spanish-speaking child. By fourth grade she was fluent in English and in high school was valedictorian. She received a scholarship to Claremont McKenna College, where she majored in economics and philosophy, and was senior class president and commencement speaker.

In order to allow sufficient time to view the film as well as hear Laura Simon discuss her work, the buffet dinner will begin at 5:45 p.m. The film will start at 6:15 p.m., followed immediately by the lecture and discussion.

The Athenaeum is honored to host Laura Angelica Simon on her return visit to campus and hopes that many of you will take the opportunity to meet and learn about the work of this distinguished CMC alumna.