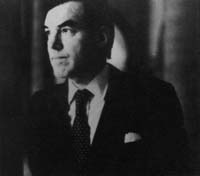 Writing Military History
JOHN KEEGAN
MONDAY, SEPTEMBER 15, 1997
The underlying social forces of any civilization, its values and traditions, are reflected in its military. Is the army comprised of status-seeking aristocrats or conscripted citizens? Is it exclusively male or sexually integrated? Does the country have a standing army or rely on militias? How do the leaders of armies motivate their soldiers to plunge into extremely deadly situations? In his responses to these and other questions, John Keegan's scholarship demonstrates that military history is much more than tales of battles and troop movements.

Born in London in 1934, Keegan grew up in Britain during the thick of World War II. Despite the fact that he has never been in combat, war has become a central focus of his scholarly work. Time magazine has hailed him as "One of the Century's most distinguished military historians." From 1980 to 1986 he was Senior Lecturer in Military History at the Royal Military Academy, Sandhurst. Since 1986, Keegan has been Defense Editor of The Daily Telegraph, a Lees-Knowles Lecturer in Military History at Cambridge, and this fall he is the Delmas Distinguished Professor of History at Vassar. He has recently been named Reith Lecturer for the BBC, an annual appointment for eminent intellectuals. Professor Keegan has published twenty books, which include The Face of Battle (1976), Six Armies is Normandy (1982), The Mask of Command (1987), The Price of Admiralty (1988), The Second World War (1989), and The History of Warfare (1993).

With support from the Gould Center and in cooperation with CMC's chapter of Phi Beta Kappa, the Marian Miner Cook Athenaeum is pleased to announce the inauguration of the annual lecture series on Questions of Civilization. This specially designed series augments the newly established humanities course and will consist of three lectures in the fall semester and an additional three lectures in the spring. Professor John Keegan's lecture is the first in this distinguished series.