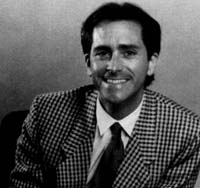 The Goldwyn Age of Hollywood
A. SCOTT BERG
MONDAY, SEPTEMBER 22, 1997
The best-selling Goldwyn: A Biography (1989) by A. Scott Berg is more than the life story of the legendary film mogul Samuel Goldwyn; it also chronicles the American motion picture industry from its origins to the present. Director Billy Wilder called it "the best book about Hollywood I've ever read." In his presentation Berg will use clips from films such as Wuthering Heights (1939), The Best Years of Our Lives (1946), The Little Foxes (1941), Dead End (1937), and performances by Gary Cooper, Laurence Olivier, Bette Davis, Barbara Stanwyk, Danny Kaye, Marlon Brando, Humphrey Bogart, and many others. Berg will survey American movies through the life and career of Samuel Goldwyn, examining how movies reflect the changing taste of the celebrated producer as well as his audience. It is a story of The American Dream and a man who believed in it, lived it, and manufactured it. And that dream embraces a large part of the history of cinema from early silent pictures to Technicolor musicals.

Berg's reputation as a biographer and cultural historian was established in his landmark book Max Perkins: Editor of Genius (1997), the story of the great editor who nurtured and developed the careers of F. Scott Fitzgerald, Ernest Hemingway, Thomas Wolfe, Marjorie Kinnan Rawlings, Alan Paton, James Jones, and dozens of other important writers. Published in 1978, it became a national bestseller and won the National Book Award.

With the cooperation of Anne Morrow Lindbergh, Berg is currently writing a biography of Charles A. Lindbergh which will examine all aspects of his multifaceted career in aviation, business, medicine, public affairs, the military, and literature.

A. Scott Berg was graduated from Princeton University in 1971 and has lectured extensively in the United States and Great Britain. He is a member of the Authors Guild, the Writers Guild of America, Pen Center USA West, and the Century Association. He lives in Los Angeles.